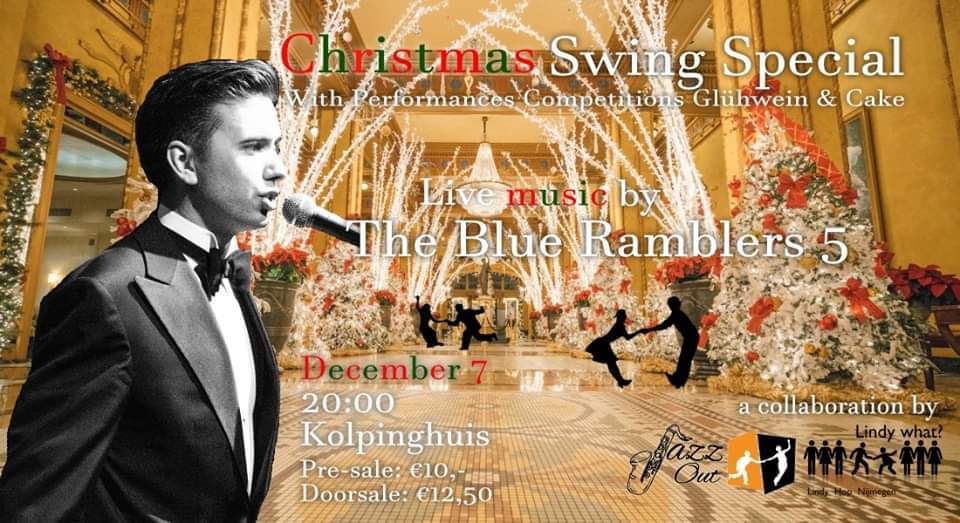 Concerten
7 december 2019
Kolpinghuis
Smetiusstraat 1
6511 ER Nijmegen
A Christmas Collaboration between Lindy What?! and JazzOut!
This evening will be filled with Swing, dance, music, joy, early Christmas feelings, Glühwein, Competitions, a Christmastree, Cake, Performances, a photobooth and soooo much more!
The Blue Ramblers 5 will shine with their amazing musical skills and make sure you will dance all night. We cannot wait to dance on their full-swing sound. Their sweet & hot sounds from the 1920´s until the 1940's are uplifting and energizing, we promise you you do not want to stop dancing that night!
And that is not all! The local band of Linda, Tijs and Hylco, will get you warmed up and into the swing-feeling! They will play the first live set of the evening. So be on time and cheer for our local talents!
In between we have awesome DJ's who will keep you spinning and sliding across the floor.
Entrancefee:
Pre-sale: €10,-
Doorsale: €12,50,-
Timeschedule:
(Some changes can be made)
20:00 Opening Doors / DJ
20:30 The Swingin' band of Linda, Hylco and Tijs
21:00 The Blue Ramblers 5 - 1st set
21:30 Performances
21:45 DJ
22:00 The Blue Ramblers 5 - 2nd set
22:30 Competitions
22:45 DJ
23:00 The Blue Ramblers 5 - 3rd set
23:30 DJ
00:00 Winner announcements
01:45 End of party - On to the afterparty?!